Buckland's Historic Buildings
"Thirteen buildings form a remarkable record of the diverse nature of an industrial and commercial turnpike town. Here are found the last extant grist mill in Prince William County, one of just three antebellum churches in the county, two taverns, two commercial stores (one an early post office), the homes of a succession of millers, two blacksmiths, two doctors, a tanner, and perhaps rarest of all, the ca. 1820 home of free African American Ned Distiller."
The Entrepreneurial Landscape of a Turnpike Town: An Architectural Survey of Buckland, Virginia
Buckland Timeline 1774 to 1850s
Slide 7
In 1771 Walker Taliaferro purchased from Charles Carter's estate 1120 acres bordering Broad Run, outlined in orange, which he sold to Samuel Love in 1774.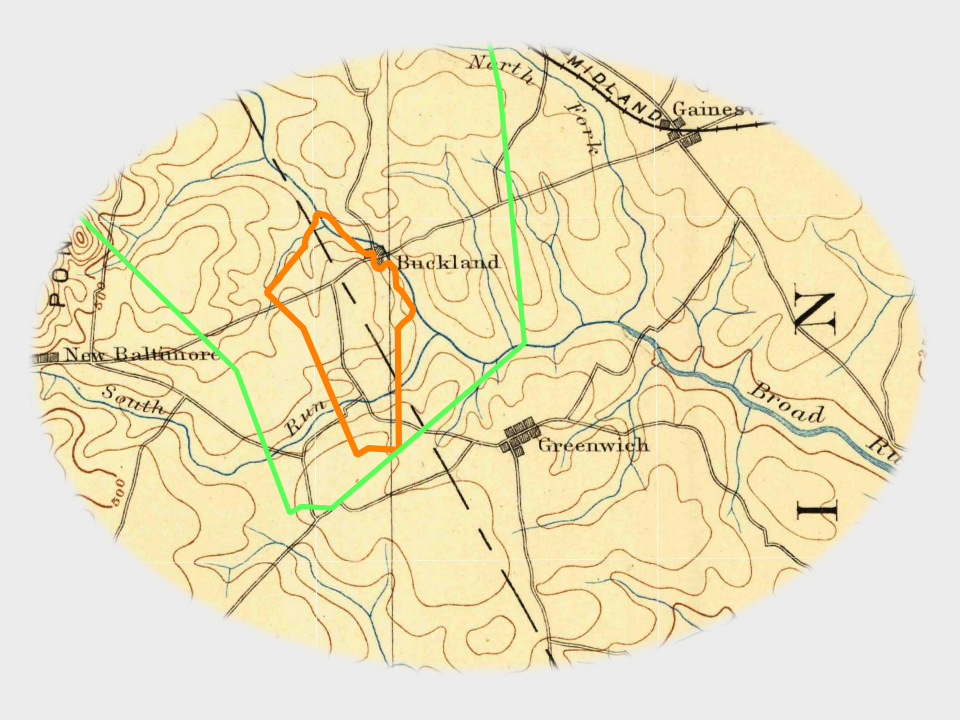 Slide 8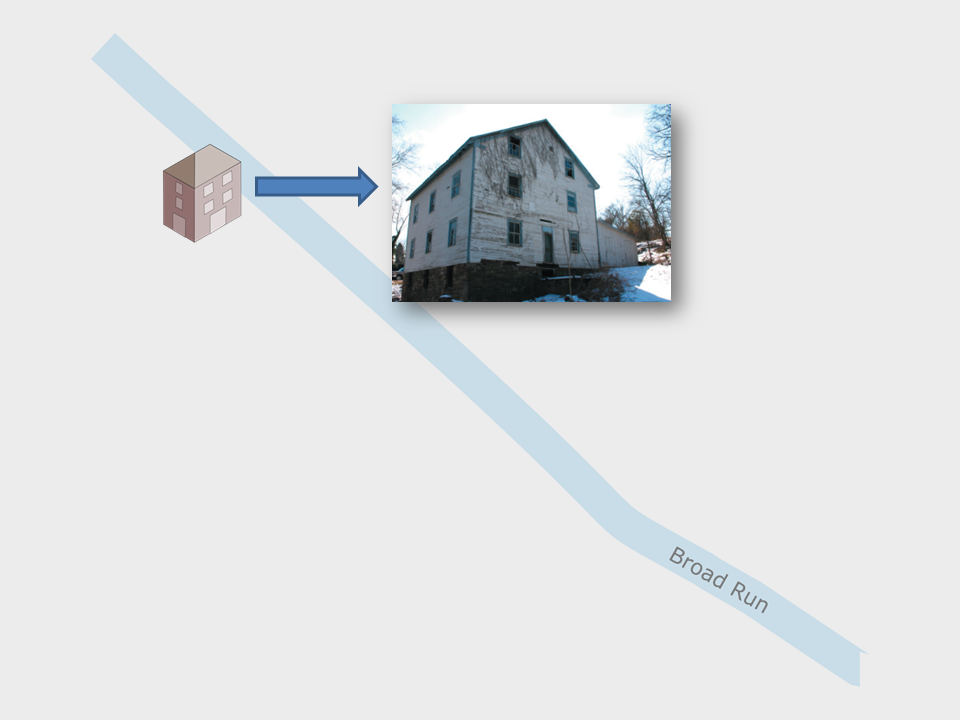 During the brief time he owned the land, Taliaferro built a grist mill on Broad Run, dammed the stream and dug a mill race to power the water wheel. The grist mill was the first step in Buckland's development and is both it's oldest and newest preserved structure, including Walker Taliaferro's 1770s mill race and original foundation. The mill building dates from 1904 and is the third structure built on the foundation.
Slide 10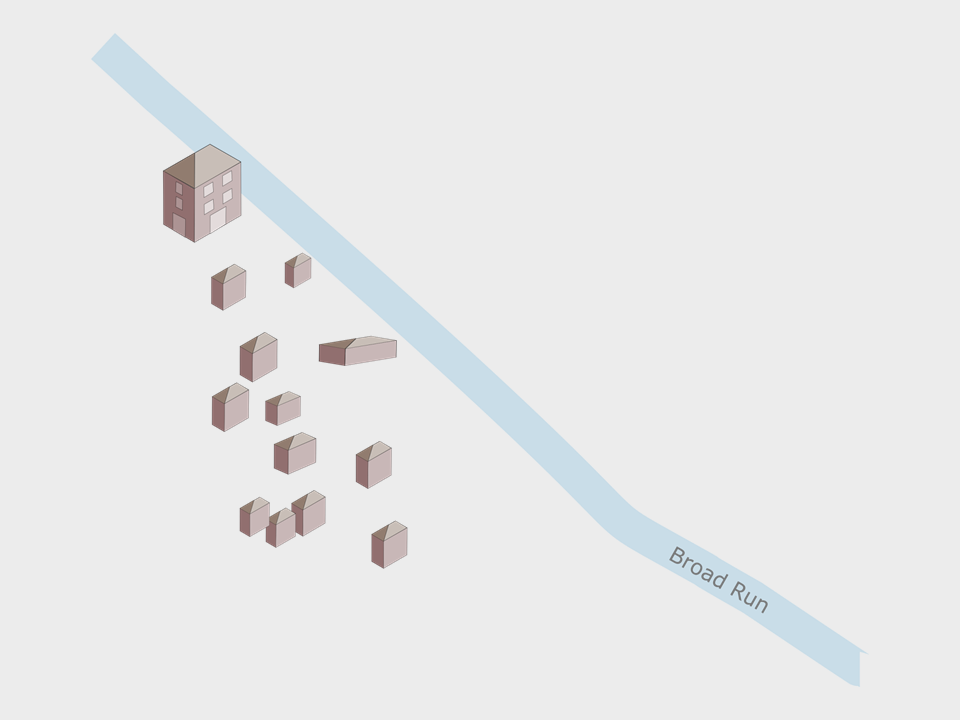 Tradesmen and workers were attracted to the milling center and leased small parcels from the Love family. By 1797 a growing community of shops and homes existed. That year, 55 citizens petitioned the Virginia legislature to establish the town of Buckland on John Love's land.
Slide 11
The 48-lot town was approved and established in 1798.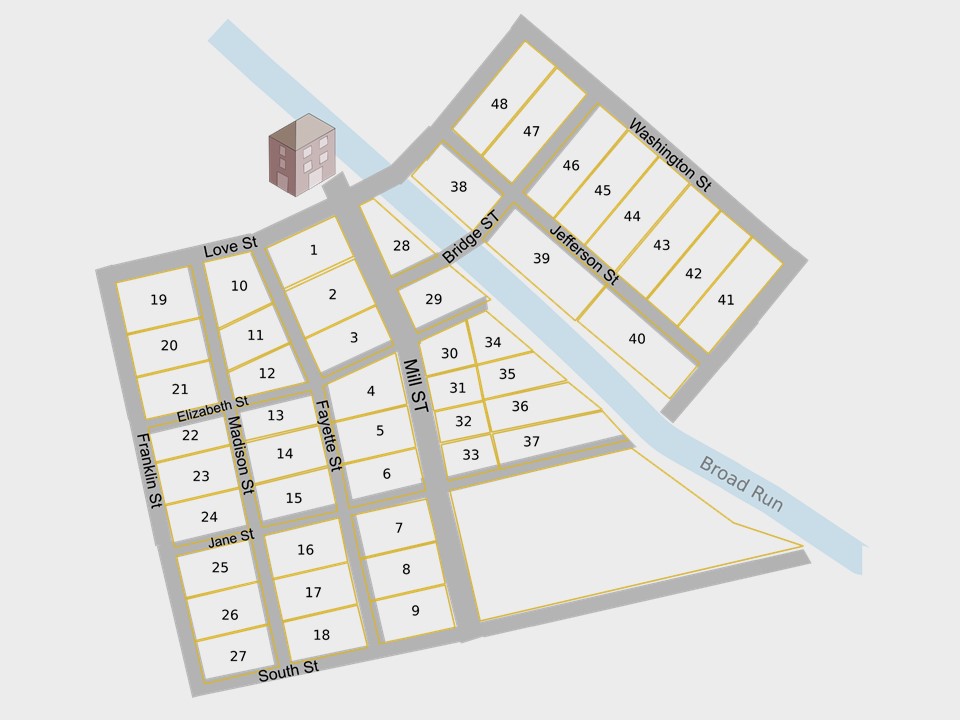 Slide 12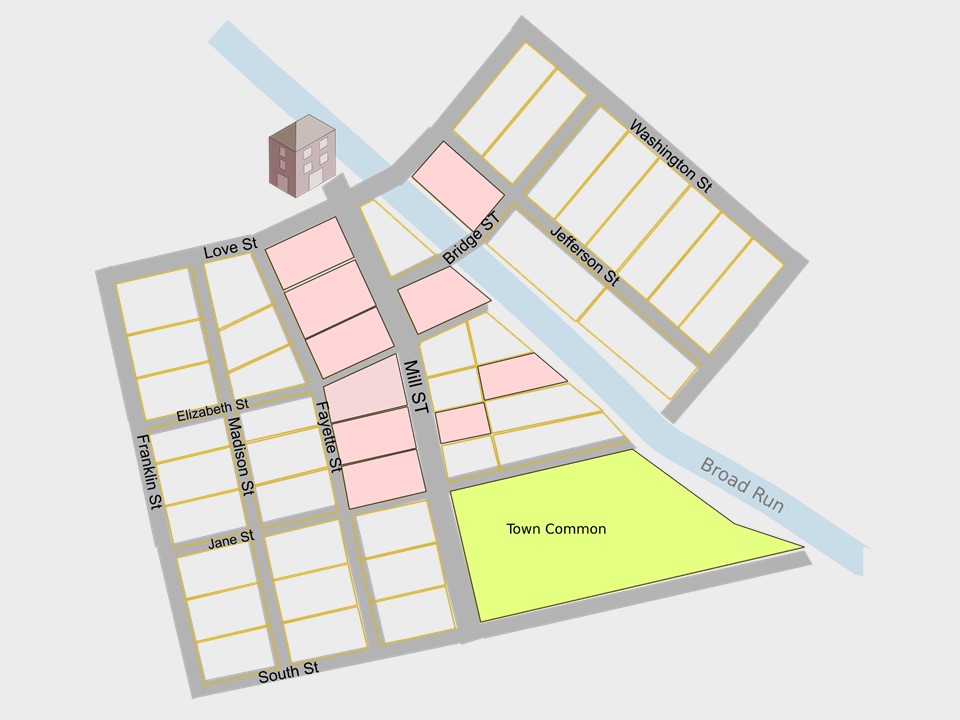 John Love had previously sold three lots, and seven others remained under his control. The 10 lots are in light rose color. 
Slide 13
On July 7, 1798, the town trustees offered the 38 available lots for sale. Six buyers bought 11 lots.  George Britton bought three, Robert Thrift and Joseph Hale each bought two. Single lots went to Richard Gill, Washington W. Washington, William Carter and George Legg.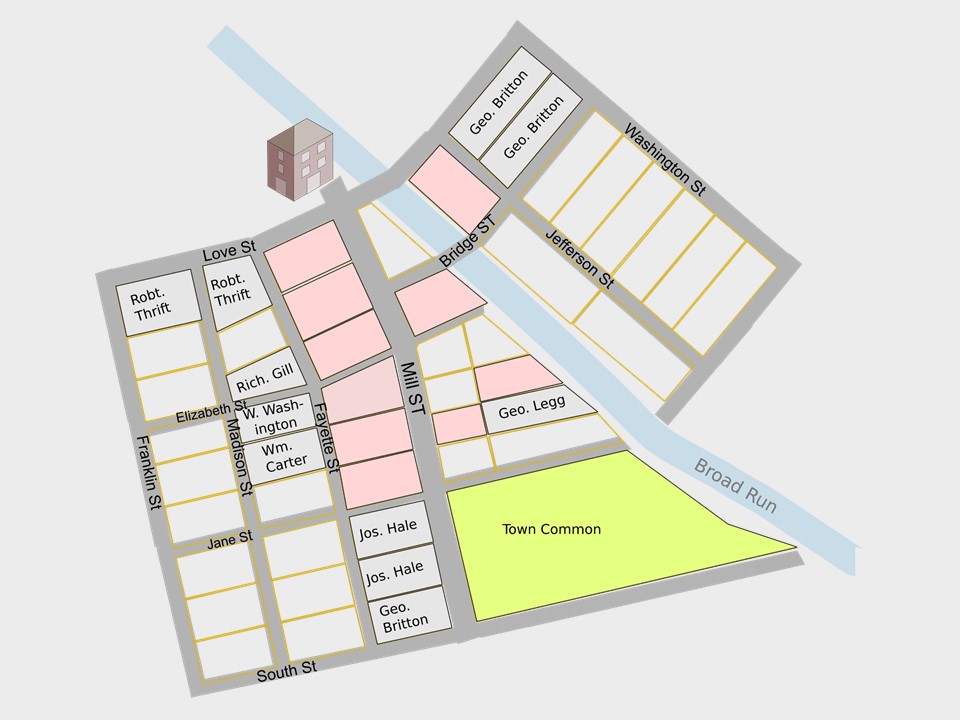 Slide 14
John Love bought the unsold 27 lots, identified in dark rose color.
Slide 15
Although the U.S. dollar system was established in 1792, money transactions still often used Virginia's colonial pound currency. The day's sales totaled 423 pounds. Lot prices ranged from 5 to 50 pounds. Higher lot prices likely reflect the value of development already existing in July 1798, as well as beneficial location within the town.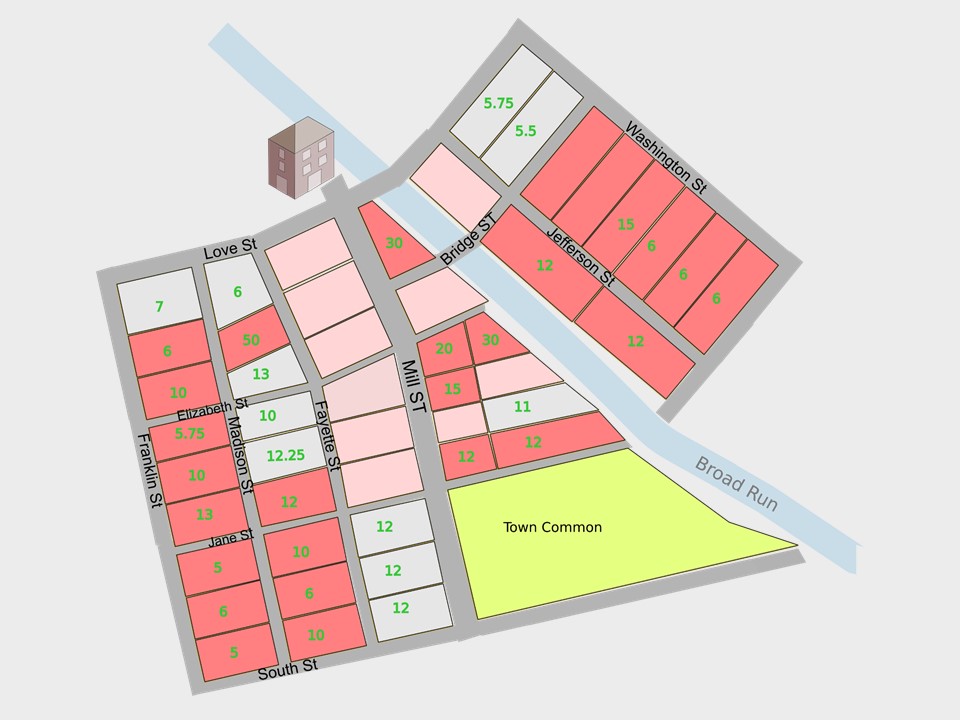 Slide 16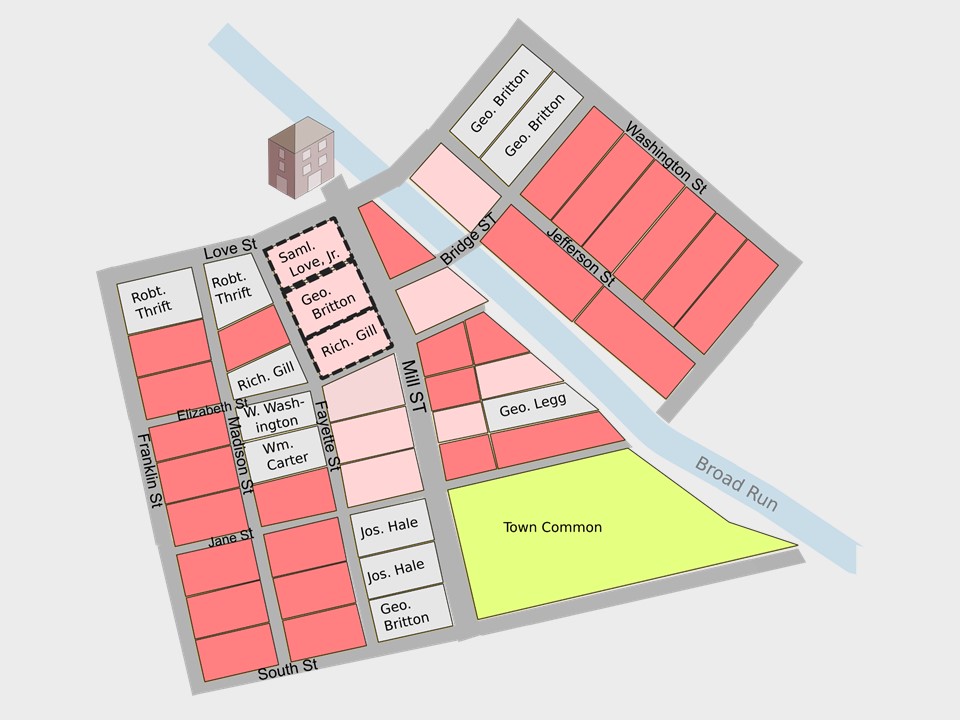 In 1799, Love sold Lot 1 adjacent to the mill to his brother Samuel Love, Jr., including a store "now occupied by Samuel Love." George Britton was operating a business on Lot 2 when he bought it in 1796. He subdivided and sold a two-story house on part of the lot in 1799. Blacksmith Richard Gill's one-and-one-half story residence stood on the rear of Lot 3, when he bought the lot in 1796. His blacksmith shop was on the lot's SE corner on Mill Street.
Slide 17
Like Buckland Hall, these three existing buildings predate the establishment of Buckland: Samuel Love's Store/Buckland Miller's Residence, the house George Britton built - Brooks' Tavern/Moss House and Richard Gill House. Later owners preserved and modified them as updated residences.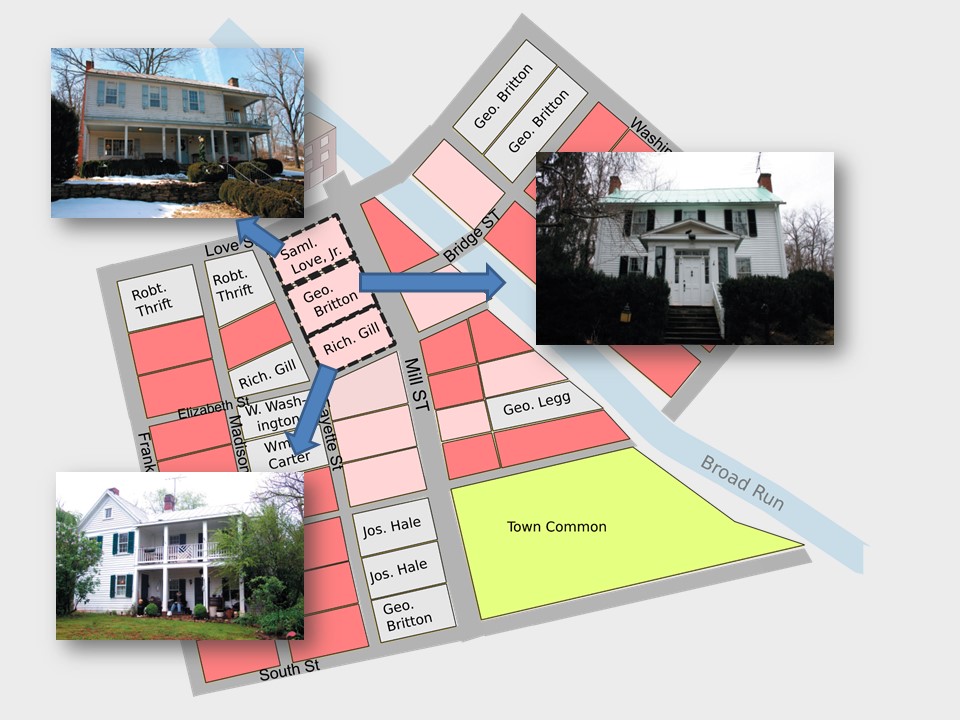 Slide 18
Of the remaining seven lots, John Love sold two in 1797: Lot 5 to Robert Thrift and Lot 6 to William Draper. In 1799, he sold four more: Lot 4 to Robert Thornhill, Lot 32 to George Legg, Lot 35 to William Thornhill, and Lot 38 to George Britton. He subdivided Lot 29 in 1799, selling part to Frances Hawley, and the remainder twelve years later to William Brooks in 1811.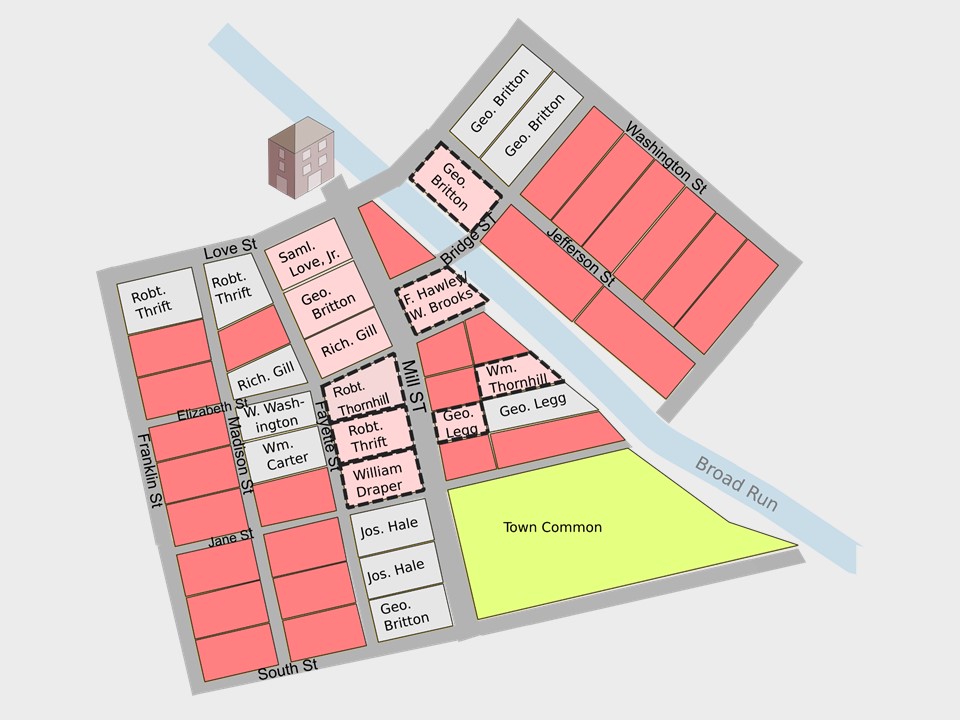 Slide 19
John Love sold Lot 28 to his brother Samuel Love, Jr. in 1798. Samuel subdivided in 1799 and sold one-third of the land (L-shaped yellow area) bordering Bridge St on which he had developed a distillery to John Taylor Jr. for 200 pounds, nearly three times the lot's initial purchase price. That same year, he sold Lot 1 containing Samuel Love's Store/Buckland Miller's Residence to William Brooks for 100 pounds.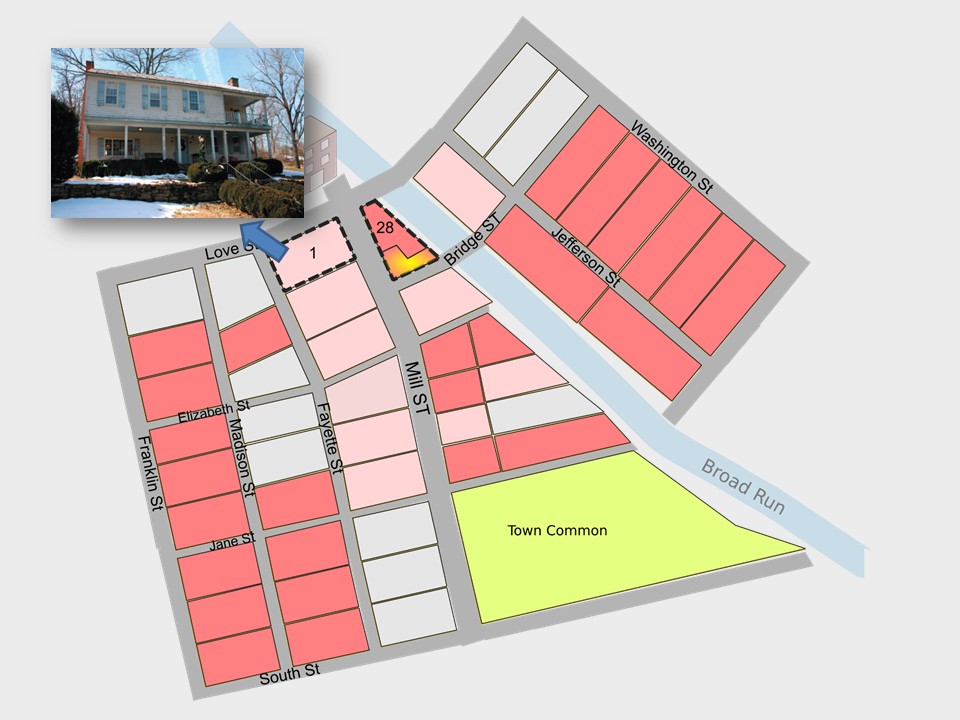 Slide 20
In 1799, John Love sold a 38-feet wide portion of Lot 29 (yellow rectangle area) fronting on Bridge Street to Francis Hawley, who in turn sold it to John Taylor Jr. Tax records in 1801 indicate that Taylor had expanded the distillery operation to this land, which soon again changed hands. A store was built in about 1807. The still existing building also served as Buckland's first post office, and is variously known as the Post Office and Hampton/Brooks Store. In 1811, William Brooks acquired the store parcel, and bought the remaining two-thirds of Lot 29. By then the distillery no longer operated in that location, replaced by a larger distillery adjacent to the mill.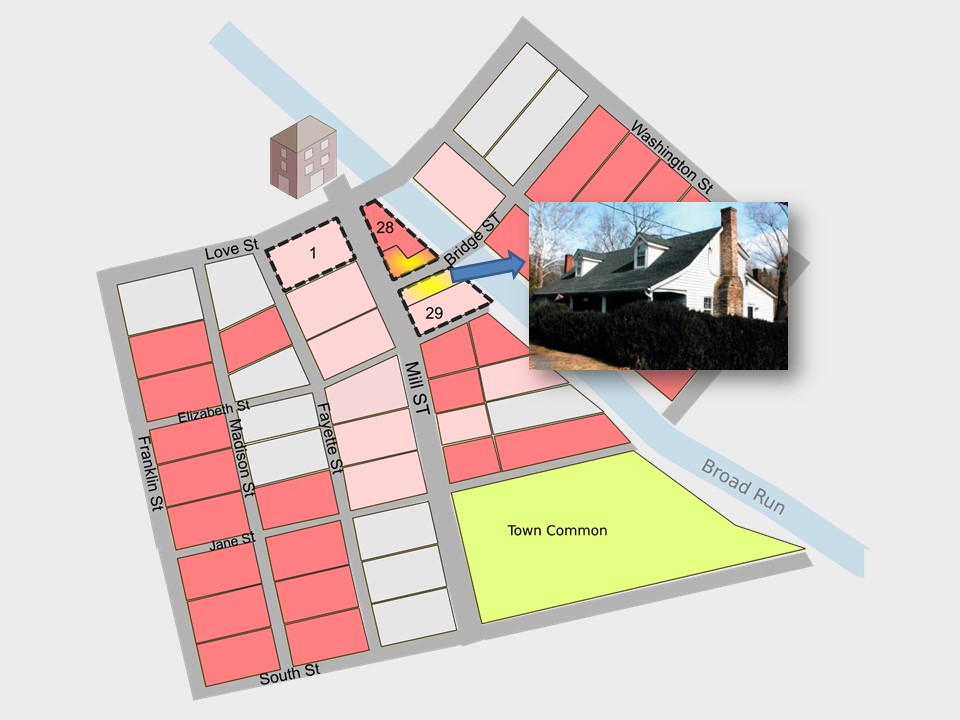 Slide 21
George Britton bought Lot 8 in 1799 from Joseph Hale.  Owning six lots, he was the largest landowner in Buckland after John Love. Britton operated several businesses: a general store, building construction, a leather tanning business, and road construction. As said earlier, he built and sold Brooks' Tavern/Moss House on Lot 2 in 1799. About 1803, he built a house on Lot 8 and a tanyard with vats and buildings that extended across Lots 8 and 9. About seven years later, Isaac Meeks acquired both lots with the tanning business and the still existing residence, Isaac Meeks House. Tax records in 1810 list Lot 38 with a building, probably a house built by Britton. Samuel King, a free man of color was the owner, and his widow Celia King paid taxes there until 1877.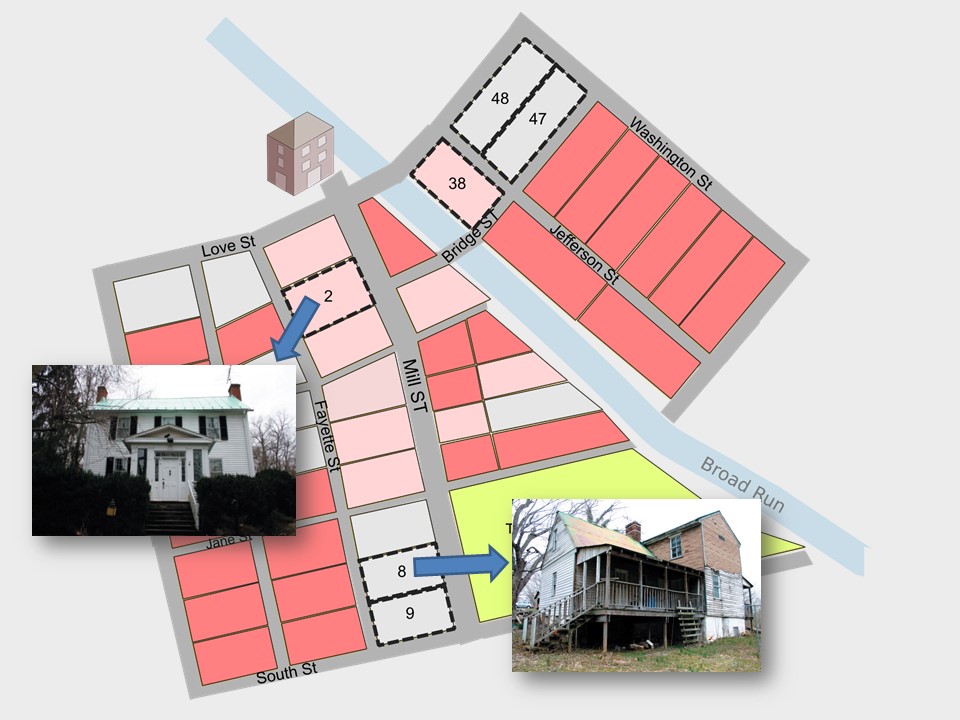 Slide 22
Authorized in 1808, the Fauquier and Alexandria Turnpike right-of-way through Buckland took portions of several lots. George Britton was the company's first president. He also received a contract in 1812 to build a ten-mile section of the road. Britton managed the road business out of his general store until his death in 1818: selling bonds to raise capital, hiring and paying labor, including slaves for construction work, and purchasing materials, tools and equipment.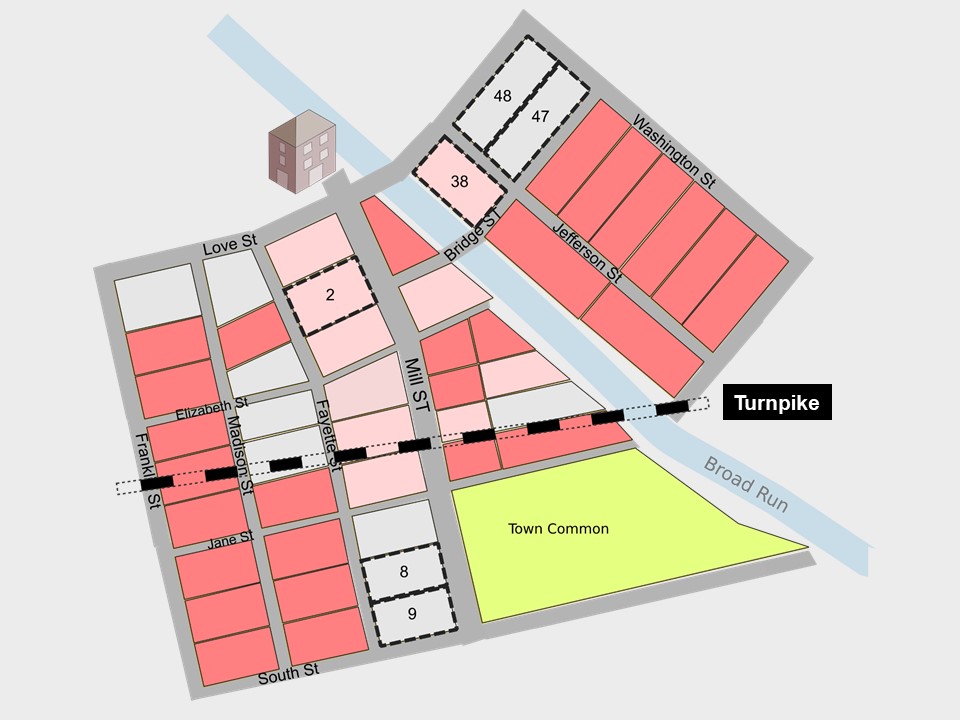 Slide 23
Although the trustees sold Lot 13 to Washington J. Washington for ten pounds, John Love acquired and sold it for forty pounds to Francis Hawley in 1800. Hawley built a kitchen structure there. By about 1811, free African American Ned Distiller, a craftsman in Buckland's distillery industry, was the owner. He built his residence, the existing Ned Distiller House, in about 1819.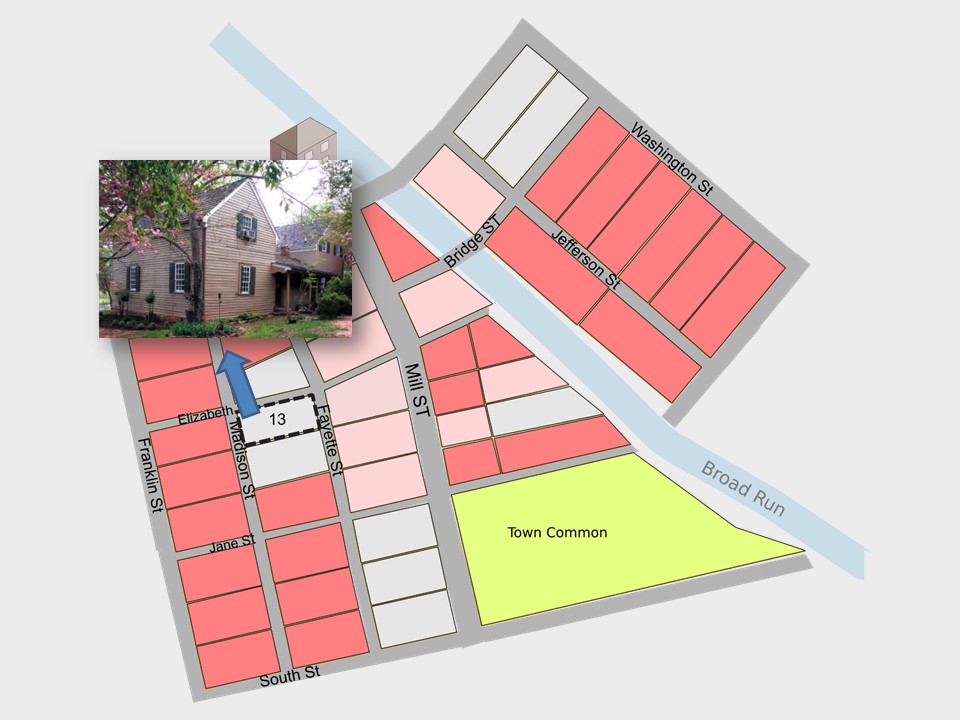 Slide 24
John Love had developed and built on Lot 4 prior to Buckland's establishment in 1798. He sold it in 1799 to Charles Thornhill for either twelve or sixty pounds; sources differ. Within months Washington J. Washington had gained title and sold to William Brooks for one hundred pounds. Brooks sold for the same hundred pounds in 1813 to William Sanders. Edward Robinson bought Lot 4 in 1818 for two hundred and fifty dollars. Prominently located on the new turnpike, he built his stone tavern to serve travelers in 1824, known today as Buckland Tavern (Robinson's Tavern).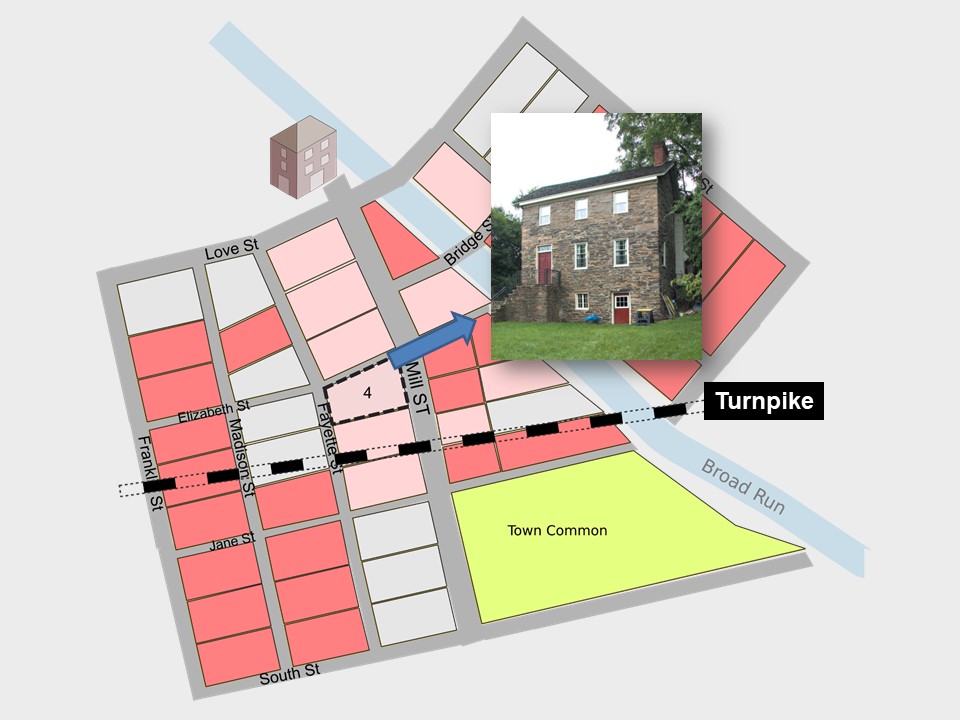 Slide 25
William Draper had constructed a shop on Lot 6 prior to buying from John Love and Josiah Watson in 1797 for twelve pounds. He sold to William Hunton, Jr. in 1800 for thirty-six pounds, who sold in 1811 to John Hampton for one hundred twenty dollars. Sometime later John Love regained title at an unknown time and price. Lot 6 lost a small part to the new turnpike. John Trone, a blacksmith and lay preacher, bought it from John Love in 1825 for seventy-five dollars. Trone soon built his still exiting home, the John Trone House. Sometime later he built his Stage Coach Inn, a larger structure facing the turnpike which was demolished about 1935.
Slide 26
By 1821, Josiah Watson, John Love's father-in-law, gained title to Lot 30. He sold it that year to Henry Brooks, who sold to Henry Conner in 1832. A house was constructed by the time Edward Robinson bought 1838. That house was replaced in the 1850s by the existing Dr. Brown House, which for a time was a physician's home and office.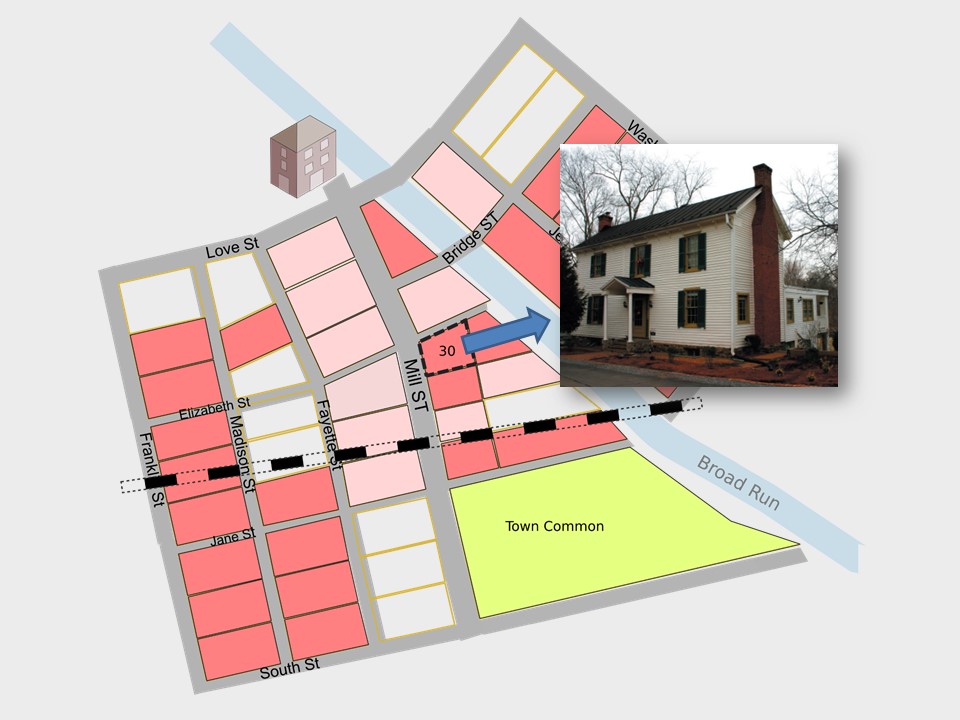 Slide 27
Lot 16 remained undeveloped and was absorbed back into Buckland Farm. Then in 1856 the trustees of St. Mark's Methodist Church, including lay preacher John Trone, received title from owners Hugh and Ann Hite. The preserved Buckland Church was built that same year.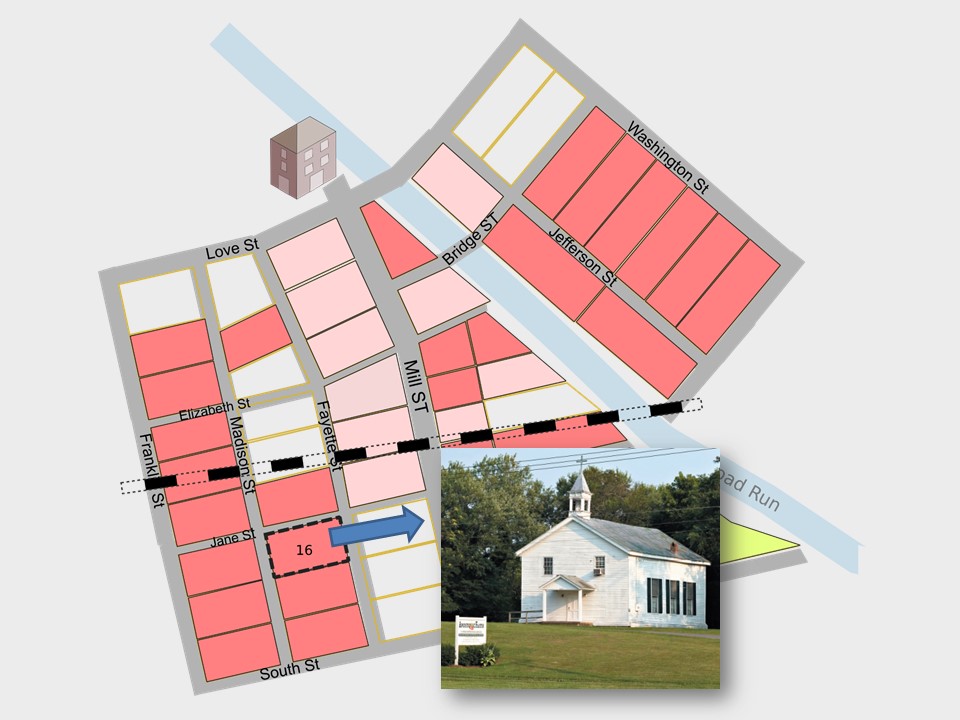 Slide 28
Two additional buildings, which date from the 1850s, were constructed on land originally set aside as a town common. Their unique features may indicate original use as housing for workers.